Learn to Play Guitar with
Studio 33
Welcome to Studio33 Guitar, an online community for guitar players and those who love the guitar! Whether you are brand new to the instrument or have been playing for years, we have a place for you here. You can learn to play guitar by enjoying our free guitar lessons, or purchase one of our full guitar lessons courses. You can read up on the latest guitar news & tips on our blog, or meet new people in our online community on social media where you can post pictures of your own guitar, videos of your playing, post a question, or help a newer guitar player with their questions too. We are all on our own personal guitar journey, but the Studio 33 Guitar community is a place where we can come together and help each other along the way! Our motto is "Play Skillfully"; what that means is to play to the best of your ability. The mission of Studio 33 is to provide you with the knowledge and information you need to achieve your absolute best; to be the best guitar player that you can be. They say practice makes perfect, but that is only true if you are practicing the right things, the right way. When you learn to play guitar it's important to build a solid foundation based upon proper technique and understanding of basic music theory.
There's a lot to explore and learn here at Studio 33 and we hope you enjoy your visit. Please contact us if we can help you in any way. We're here for your success!
The Studio 33 Team
"Play Skillfully"
20%

 OF KIDS TAKE MUSIC LESSONS
70%

OF ADULTS WISH THEY HAD
STOP WISHING     START PLAYING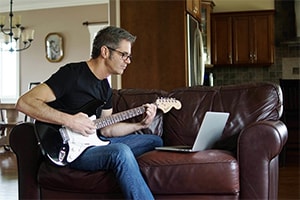 Learn how to play guitar at your own pace.
With our online guitar lessons you can go as fast or as slow as you want to. Each guitar video course is broken down into multiple lessons, and progresses in a structured, logical order. Review something as many times as you need, and as soon as you feel ready, move on to the next lesson.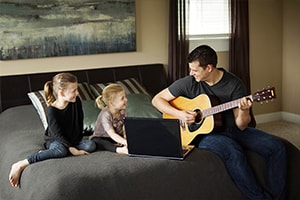 Learn guitar at your own level.
Whether you know the basics or have never picked up a guitar before, we offer guitar lessons that will meet you where you're at and take your playing to the next level.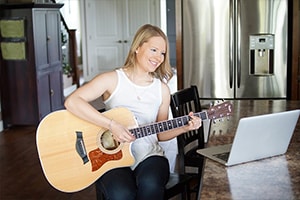 Learn guitar when (and where) it's convenient for you!
We live in a busy time. It's hard to fit in guitar lessons, but with online guitar lessons, you can learn from the comfort of your home, office, or anywhere else you have internet access. You can watch our video lessons anywhere with your laptop, tablet or even smartphone!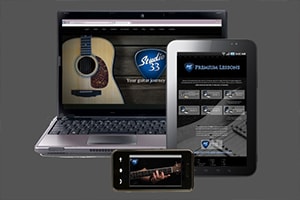 Learn anywhere!
Our site is formatted to be viewable on a desktop, laptop, tablet or smartphone, so you can have access to your online guitar lessons at home, the office, or on the go!
Your Time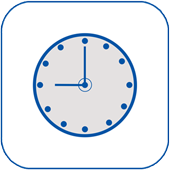 24/7 Online access with your laptop, tablet or smartphone. Learn when it's convenient for you!
Your Level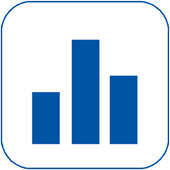 Learn from the very beginning or jump in at one of the more advanced levels.
Your Pace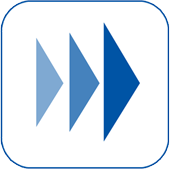 Step by step, structured learning. You'll always know what to learn next and you'll never feel overwhelmed or in over your head.
All of these guitar lessons can be played on acoustic guitar or electric guitar and will provide you with the knowledge and techniques you need to succeed, regardless of the style of music you are interested in (rhythm guitar, lead guitar, blues guitar, rock guitar, country guitar, etc.).
With the variety of online guitar lessons we have to offer, there is simply something for everyone. Start your guitar journey today.
Premium Online Guitar Lessons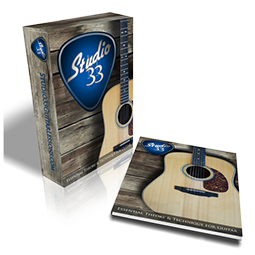 Essential Theory & Technique For Guitar
For the beginner, you will find our guitar video courses to be a wealth of information to help you learn to play guitar. Our online guitar lessons series start at the absolute beginner level (even if you have never held a guitar before) and progress through to a more intermediate/advanced level. You can learn about music theory and proper guitar technique from our Essential Theory & Technique For Guitar course. This guitar lesson course covers everything from the parts of the guitar, how to hold a pick, proper right hand picking technique, the names of the notes on the guitar neck, the major scale, the chromatic scale, proper left hand technique, how chords are made, how to play chords on the guitar and more!
Kickstarter Course: Level 1
After you finish the lessons in the Essential Theory & Technique course, you can move on to our multilevel Kickstarter Series.
In Kickstarter Level One, the guitar lessons pick up right where the Essential Theory & Technique course left off and start leaning things like how to play with a metronome, how to change chords quickly, new major chords and minor chords, chord progressions of popular songs, proper strumming technique, and beginner strumming patterns to help you play your favorite songs.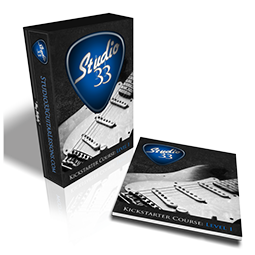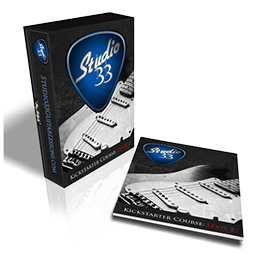 Kickstarter Course: Level 2
In Kickstarter Level Two you will expand your chord knowledge and learn How To Play An E Major Chord, learn about Suspended Chords (How to Play a Dsus Chord and Asus Chord), The Minor Scale, Intermediate Strumming Patterns, some more advanced rhythm techniques like Palm Muting and How To Play The Coldplay Rhythm.
Kickstarter Course: Level 3
The Kickstarter Level Three guitar lessons really step things up and you will learn more advanced Right Hand Picking, String Skipping, Melodic Arppegiated Chords, Slash Chords (Inverted Chords), different Time Signatures, How To Transpose Songs, How To Play Barre Chords, and How To Use A Capo.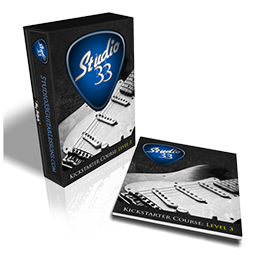 COMING SOON TO OUR LESSON STORE