Payments for Studio33GuitarLessons.com Premium Guitar Lessons are made securely at PayPal.com. For your convenience, you can pay directly with your preferred Credit Card without a Paypal membership account.
Below are the steps to complete your secure Paypal payment without a Paypal membership login.
This process outlines how to pay using Paypal after you have created a membership account at Studio33GuitarLessons.com and you have selected a Premium Guitar Lesson to purchase.
1.) Make Sure the Correct Payment Option is Selected



If you own a Paypal Account, you can simply begin the transaction by logging in.
If you do not have, or wish to create a Paypal account you can proceed straight to processing payment by selecting "Pay with a Debit or Credit Card, or Paypal Credit" as seen in the diagram.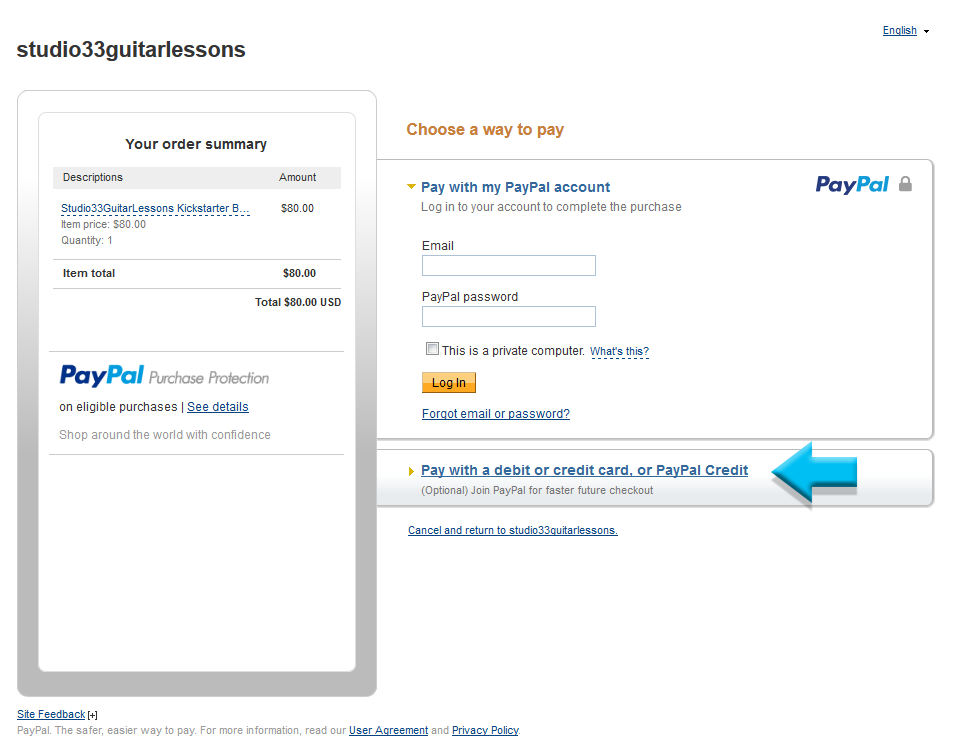 2.) Enter Your Preferred Credit Card Information



Simply enter the card holder's name, billing address, and credit card information and click "Pay" to confirm the transaction.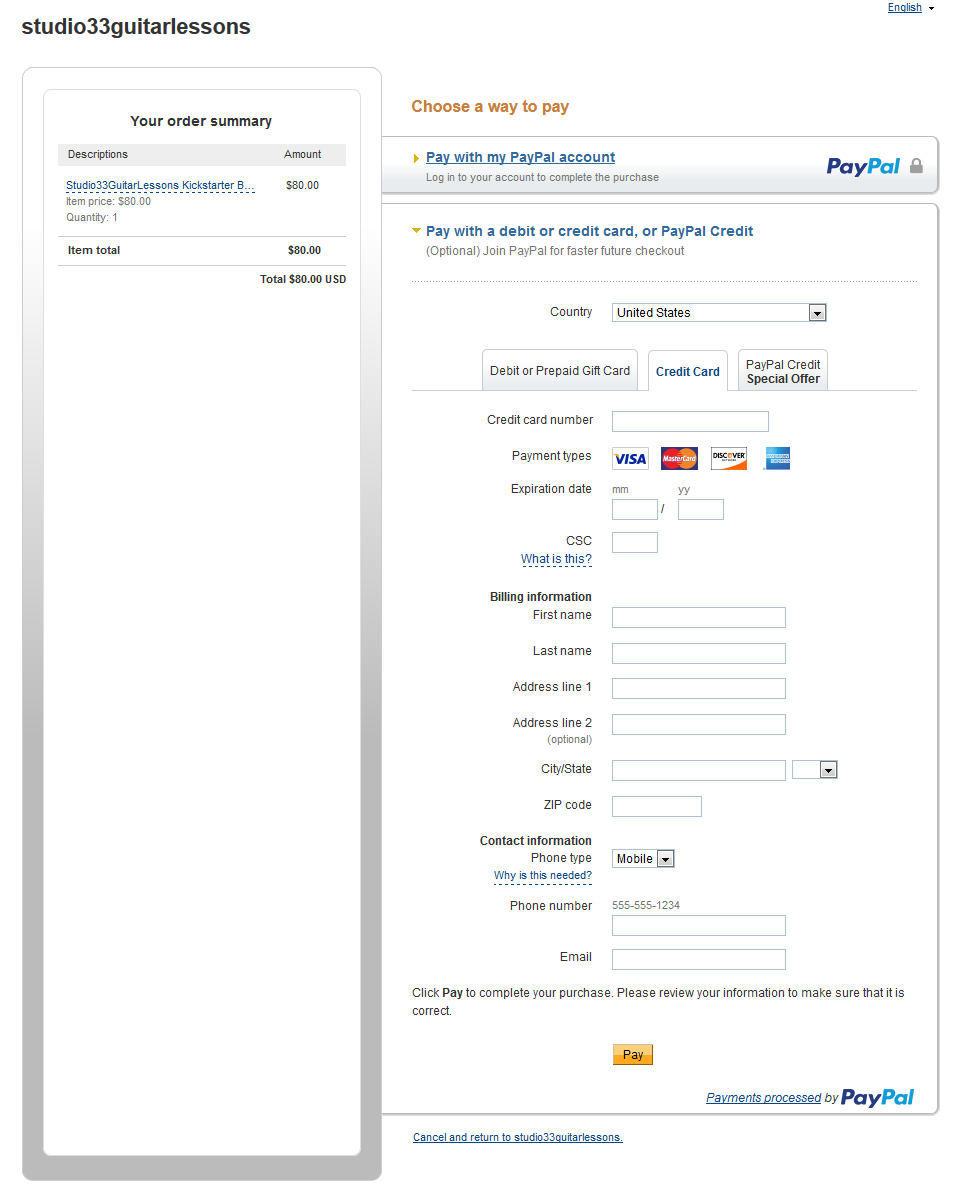 3.) Click on "Pay Now"
Finalize the payment to your credit card by clicking "Pay Now".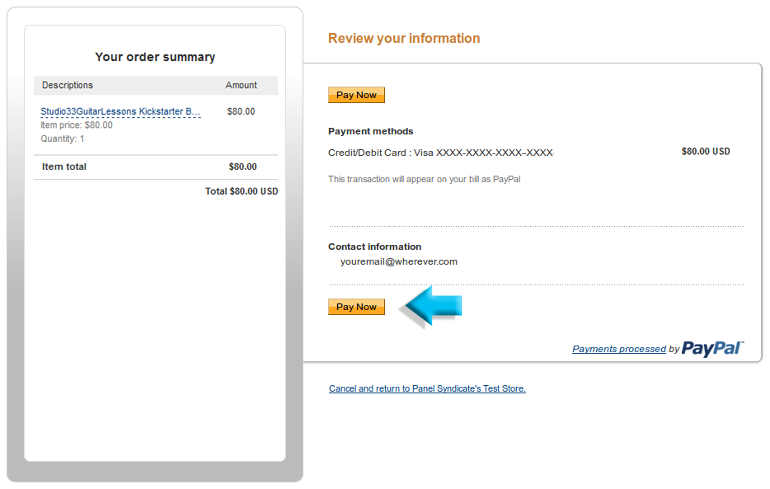 4.) Payment Complete



The transaction will be processed to your payment information and completed. At this time you have the optional choice of creating a Paypal account to speed up future purchases. If you are not interested in this, you can simply click on "No, Thanks" to finish.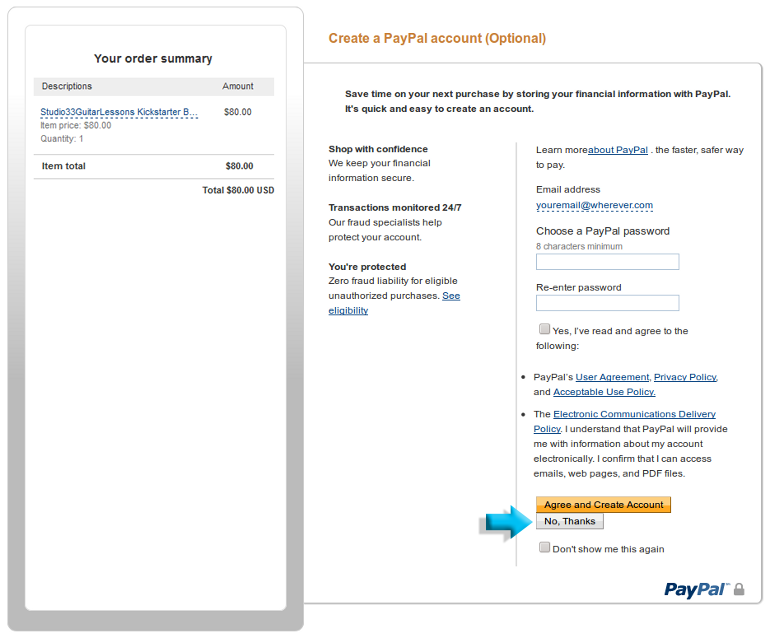 Once this process is complete you will receive a confirmation email that acknowledges the purchase of your order. Once the transaction payment has been processed, your lessons will become available by logging into your account on the website and choosing "My Lessons" from the main menu.
To learn more about how Paypal.com keeps our aspiring musicians safe, be sure to check out How Secure Is the Paypal Site? from Paypal's FAQ at the help center.